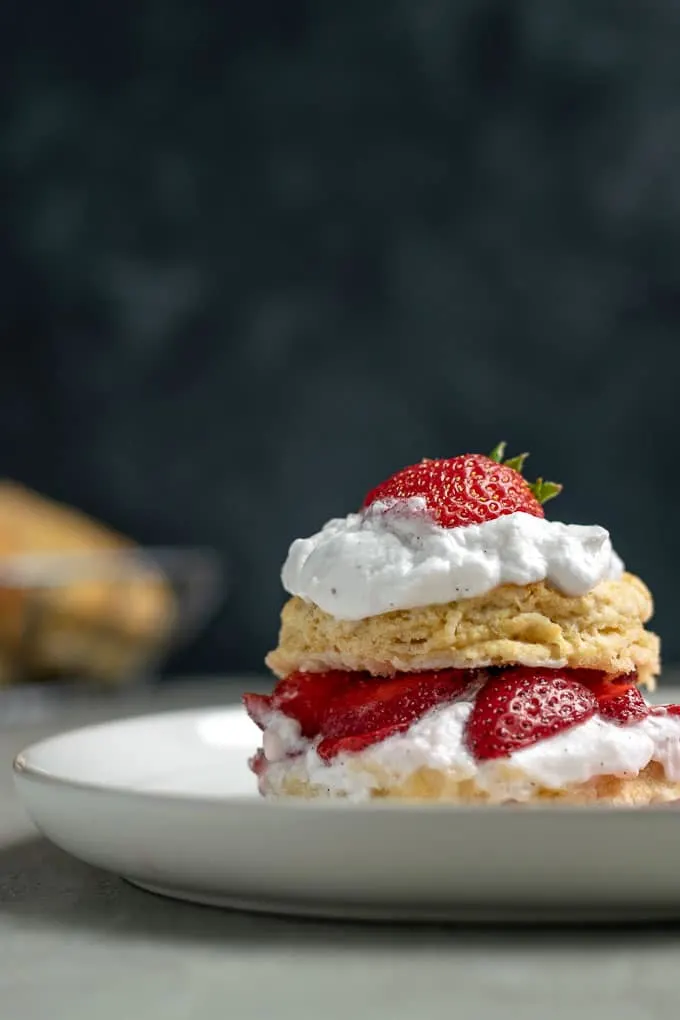 I have made the perfect strawberry shortcake. Tall, fluffy, buttery biscuits with to die for flakey layers. Sweet, liquor soaked strawberries. Light and creamy, vanilla bean coconut whip. And did I mention it's all vegan? Ooooh yeah 😛 !
I made a batch of strawberry shortcake last month for my birthday and apparently I'm a monster because I shared a picture of the shortcake without a recipe! I mean, no one called me a monster, but I imagine after letting an entire month (almost) pass without a recipe some people were starting to think it.
Well I think this recipe will more than make it up for you. I mean, did you see these shortbread biscuits?? They have got to be the best, flakiest biscuits you ever did see!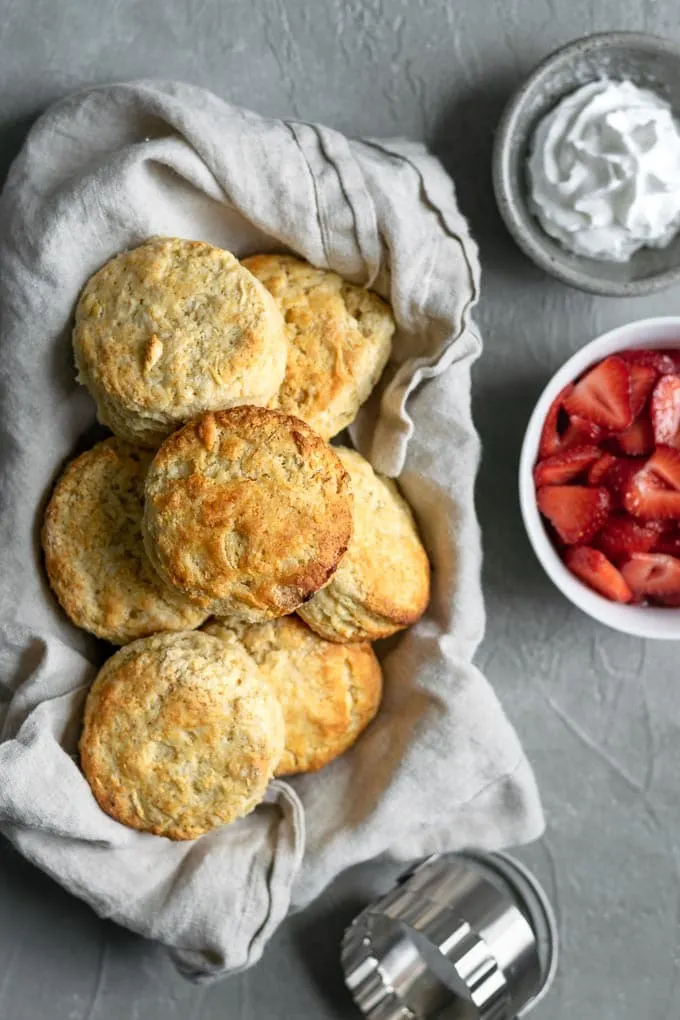 For my birthday I made the macerated strawberries with bourbon, which was very good, but to be honest doesn't hold a candle to these brandy soaked strawberries! That being said, if you prefer a different liquor to soak your fruit in, go ahead and try it!
Speaking of liquor soaked fruit, I have a great story about my first time getting tipsy… in Paris at age 11. Oops. Maybe if you're serving this to children skip the alcohol, okay?
You know I couldn't stop with the berries! It's not strawberry shortcake without some whipped cream after all! Well, we couldn't just have regular old whipped cream, or um, regular vegan whipped cream (coconut cream!). I took that next level in the easiest way possible, with a little bit of freshly scraped vanilla bean!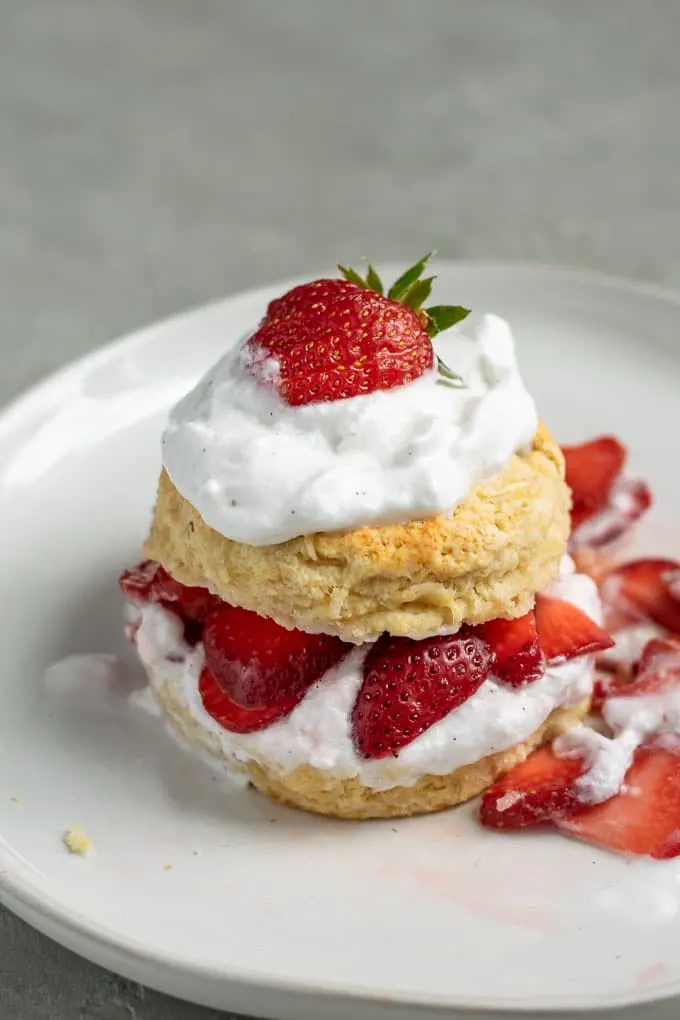 Strawberry shortcake may be a 3 part dessert, but each step is surprisingly easy!
First, the shortbread biscuits. It's called shortbread because the gluten (protein network) in the dough is cut short thanks to the addition of fat (in this case, butter, or vegan butter!). This means ultra tender biscuits. Buttery, mouth watering biscuits. Have I sold you on them yet?
Shortbread biscuits are super easy to make! Whisk together the dry ingredients so they're nice and fluffy then cut in the vegan butter. Make a quick buttermilk by clabbering plant milk with an acid. Lemon juice works perfectly in these lightly sweetened biscuits. Richer plant milks that are higher in protein, like soy milk, work better. Skip the watery rice milk! This time around I used oat milk with great results.
The biscuit dough should be handled as little as possible, roughly mixing and then rolling and folding the dough to create flakey layers and just bring it together. Cut the biscuits in a straight press down motion, don't twist or anything that might seal those layers together and keep the biscuits from rising to their full potential.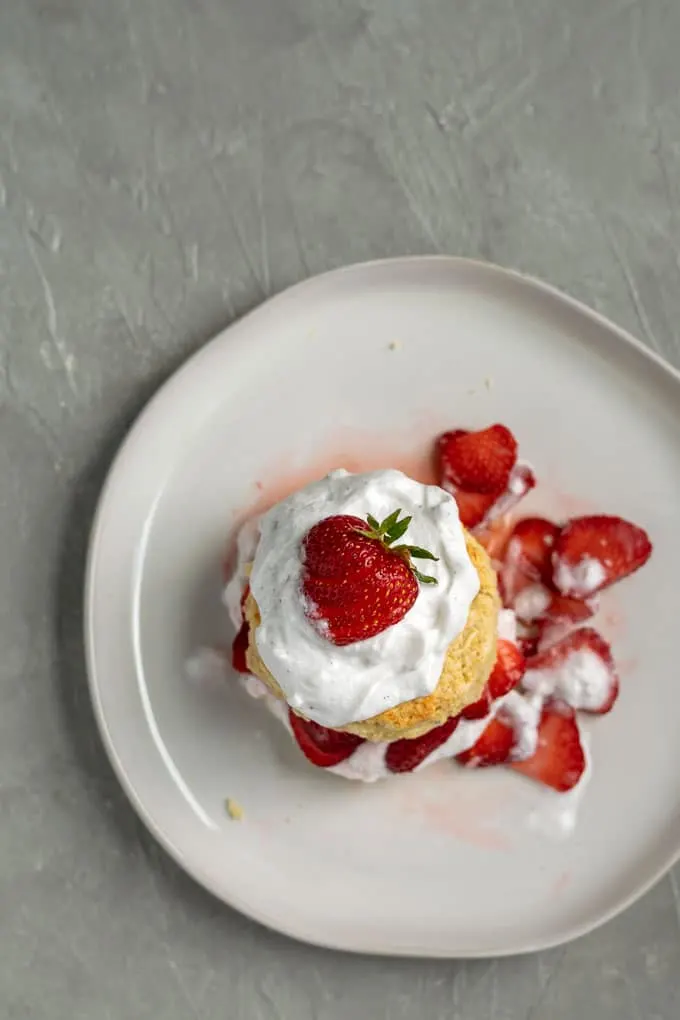 When the biscuits go in the oven, I like to move on to the strawberries. The hardest part about making these strawberries is slicing them all. But I believe in you! And gave you lots of extra time in the prep area to be slow about it haha.
Tossing the sliced strawberries in sugar draws out their moisture, to create a delicious sweet strawberry syrup. It softens the berries and makes the perfect juicy, fruity topping for your biscuits. A splash of brandy takes it to the next level!
Now the coconut whipped cream takes a bit of forethought. You'll need to stick some coconut milk in the fridge they day before. Even better is if you can source a can of coconut cream as these have less water in them.
I like my coconut cream to be lightly sweetened, with a hint of vanilla. Powdered sugar works well to sweeten and simultaneously thicken the cream a little. While vanilla extract can add that vanilla flavor, I love getting a little fancy with straight vanilla bean. I mean, I just can't get over those cute speckles! Gimme allll the whipped cream! No seriously, do it.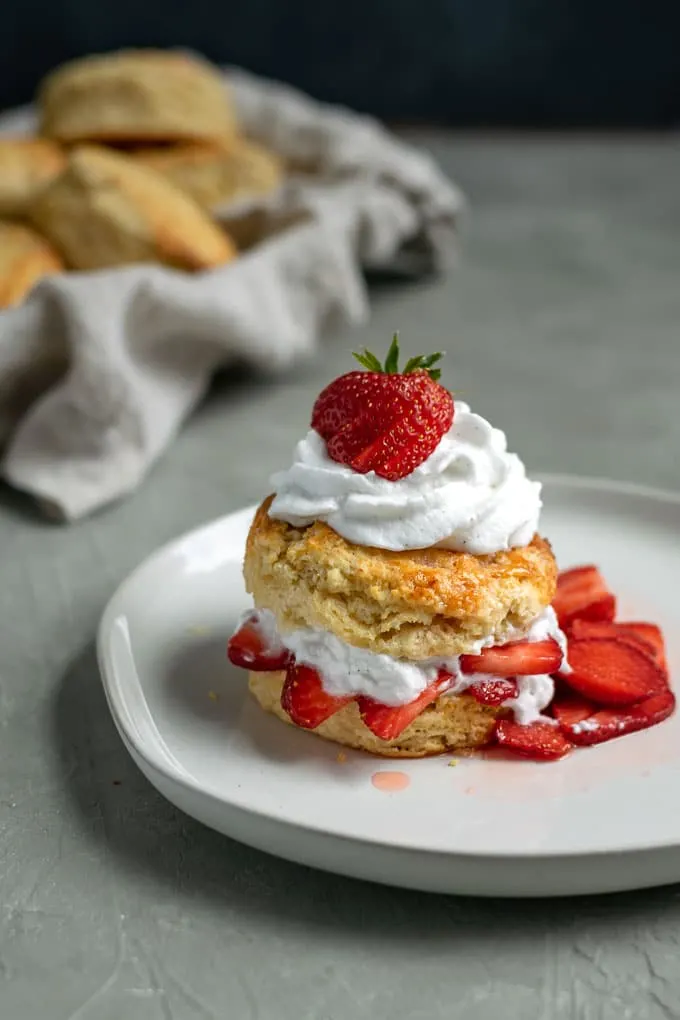 For the coconut cream you can whip it up with a hand mixer. That's probably the way most of you are used to doing it! But at some point I got myself an iSi Cream Whipper and these days my coconut cream process is a bit different. I do try to isolate more of the cream from the coconut milk, but don't always refrigerate before filling and whipping the coconut cream. Instead, I mix the sugar and vanilla bean into the soft cream, then fill and charge up the canister, stick it in the fridge and let it chill overnight. If there's interest I could do a whole post about it!
If making coconut whipped cream with a hand mixer, you can check out this Minimalist Baker Coconut Whipped Cream post for troubleshooting. As long as your cream has separated and chilled to a firm but scoopable consistency it should work nicely! And if all else fails, you can always pick up some prepared coconut whip from the store!
Strawberry shortcake has got to be my favorite summer dessert. I think summer just wouldn't count if I let the season go by without making it at least once!
Sweet, boozy strawberries piled onto still warm buttery shortbread, and topped with creamy vanilla-y coconut whip. It's a little dangerous with the slightly warm biscuit, as you'll want to gobble it up quickly before the coco whip melts. But, challenge accepted cause man it's worth it!
I hope you can forgive me for squeaking this recipe in just before fall. But we couldn't have you waiting an entire year without it! So go run out and get yourself some strawberries, bake yourself some biscuits, and whip up some coconut cream ASAP!
Did I mention, strawberry shortcake makes the BEST summer birthday treat? mmm.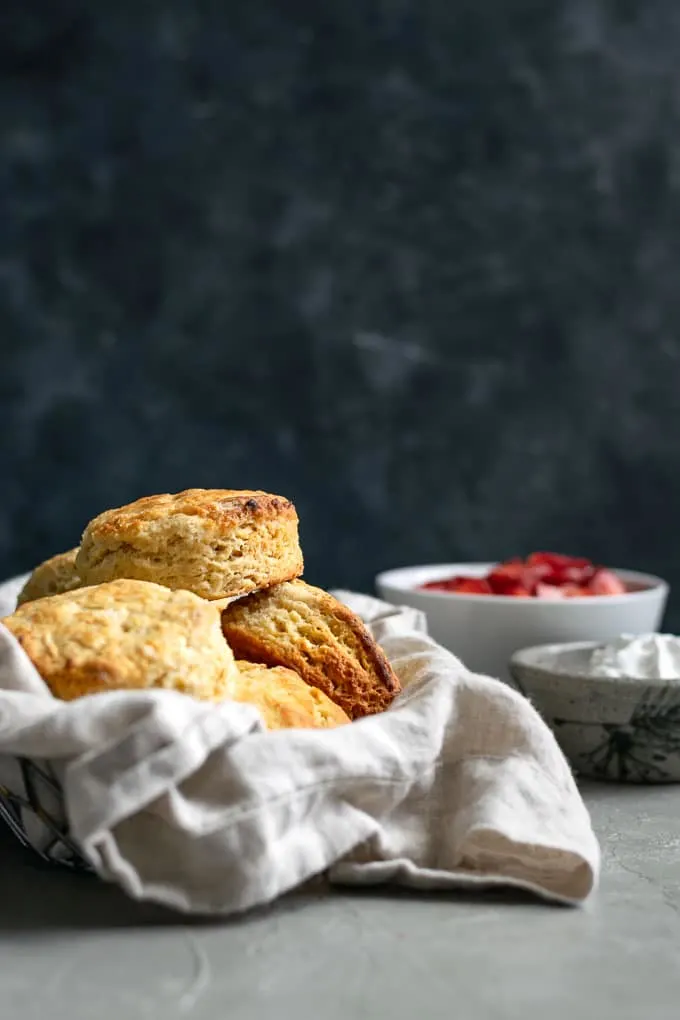 If you make this vegan strawberry shortcake leave a comment and rate the recipe below! And don't forget to tag your recreations @thecuriouschickpea and #thecuriouschickpea on Instagram, I love seeing your photos!
Like what you see? Follow along on Instagram, Facebook, and Pinterest!
Notes:
You'll want to use vegan butter sticks and not the spread for this recipe. The spreads have too much liquid in them! Earth Balance Buttery Sticks work really well in this recipe as does a more gourmet vegan butter like Miyoko's Vegan Butter. And make sure your vegan butter is nice and cold, straight from the fridge!
Find more great tips for making the best biscuits in my vegan jalapeño cheese biscuit recipe!
Feel free to sub another alcohol like bourbon in your strawberries, or simply leave it out for an alcohol free version!
Vegan Strawberry Shortcake with Brandy Soaked Strawberries and Vanilla Bean Coconut Whipped Cream
Buttery shortbread biscuits are topped with sweet, brandy soaked strawberries and finished off with some freshly whipped vanilla bean coconut whipped cream for a delicious summery dessert.
Ingredients
Shortbread Biscuits
1 cup (240g) soy milk or other plant milk, extra to brush on biscuits
2 tsp (10g) freshly squeezed lemon juice or apple cider vinegar
2 1/2 cups (330g) all purpose flour, extra for dusting
2 tbsp (27g) sugar
1 tbsp (13g) baking powder
1/2 tsp (2g) baking soda
1/2 tsp (2g) salt
6 tbsp (84g) cold vegan butter
Vanilla Bean Coconut Whipped Cream
1 1/2 - 2 cups coconut cream*
1/4 cup powdered sugar, sifted if clumpy
1/2 - 1 vanilla bean, seeds scraped out
Brandy Soaked Strawberries
2 lbs strawberries, hulled and sliced
6-8 tbsp sugar, to taste
2 tbsp brandy (optional)
Instructions
Make the shortbread biscuits
Preheat the oven to 425 ºF.
Add the lemon juice (or vinegar) to the soy milk and set aside for at least 5 minutes to clabber. In a mixing bowl, whisk together the flour, sugar, baking powder, baking soda, and salt. Add the cold vegan butter in 1/2" pieces, then using a pastry cutter or two opposing knives, but the butter into the flour to form a crumbly mixture with the largest pieces of butter no bigger than a pea. Add the milk mixture and mix with a wooden spoon until it has mostly come together.
Turn the shaggy dough onto a clean and lightly floured counter. Sprinkle a little flour on top, then press or roll the dough into a rectangle until it is about 1/2" thick. With the help of a bench scraper or with your hands, fold the dough in half, then fold in half once more in the opposite direction. Add more flour to the counter under the dough and sprinkle more flour on top as needed to prevent sticking, and roll the dough out once more until 1/2" thick. Fold in half, and then half again. Roll the dough out (flouring as needed to prevent sticking) until it is 1" thick. Cut using a 3 - 3 1/2" biscuit cutters. Press down but DO NOT twist the cutters. Reform the dough and roll it out to repeat to use up all the dough.
Place the cut biscuits on a baking sheet so that they are touching each other. Brush with a little extra plant milk and bake for 13-15 minutes at 425 ºF until golden.
Make the brandy soaked strawberries
Place the sliced strawberries in a mixing bowl and sprinkle on the sugar and brandy (if using). Stir to coat, then set aside for at least 30 minutes, or place in the fridge for longer for the strawberries to macerate and create a juicy syrup.
Make the coconut whip
With a hand mixer: Combine the cold coconut cream, powdered sugar and vanilla bean and whip until fluffy. Do not over mix as that can cause the cream to split. Keep refrigerated until ready to use.
With a whipping canister: Whisk the coconut cream, powdered sugar, and vanilla bean until smooth and pour into canister. Charge your canister according to manufacturer's directions. Place in fridge until ready to use.
Notes
*from 2 cans of coconut milk or 1 can coconut cream. Chill in the fridge for 24+ hours, then flip the can, open it up from the bottom and pour out the water that has separated, then scoop out the cream.
Biscuits adapted from my Vegan Jalapeño Cheese Biscuits
Recommended Products
As an Amazon Associate and member of other affiliate programs, I earn from qualifying purchases.