The classic reuben gets a makeover with this vegan reuben sandwich recipe. It's made with homemade corned tempeh and layered with your favorite reuben flavors! It's so easy to make at home, much better for you, and tastes even more amazing. You'll have to give it a try!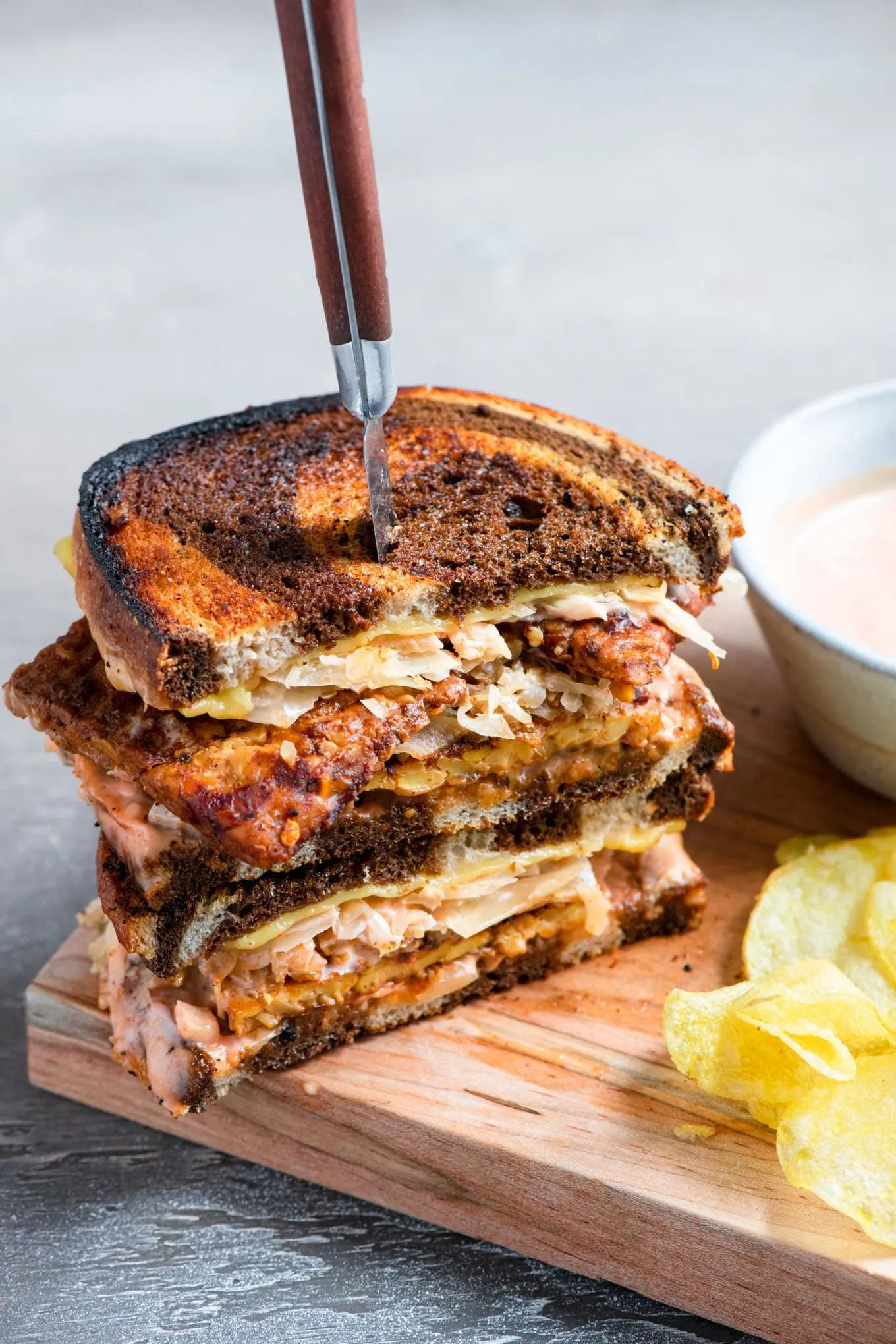 The reuben is a much-loved sandwich filled with pickle-y and fermented flavors. From it's meat to the cabbage and the sauce.
All those tangy, rich flavors are enough to make your mouth water, at least for the vegan version. 😜
The reuben sandwich is not vegan-friendly. It's made with corned beef, swiss cheese, and mayo-based thousand island dressing (or sometimes Russian dressing).
Never fear, we can get all that delicious flavor without any animal products!
The most important thing you need for your vegan reuben sandwich is the meaty filling.
The corned tempeh:
Instead of corned beef, I made a corned tempeh. Tempeh is not going to have the same texture or fattiness of meat, but it works as a sponge to soak up the pickling marinade and I absolutely adore its texture in sandwiches.
It's also super easy to prepare!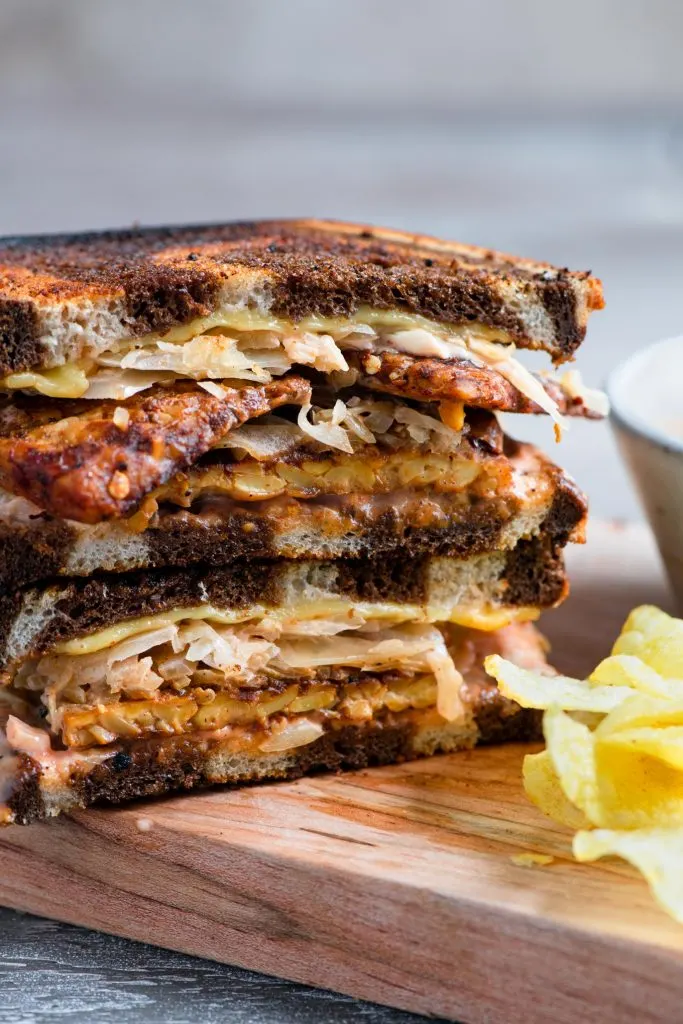 What does it mean to be 'corned?'
Corned refers to a process of salt-curing with a brine that is similar to a pickling brine. Fun fact: sodium nitrate is the salt used for this pickling and because it is not safe in large quantities it is dyed pink to easily tell it apart from table salt. This is why you expect corned beef to look so pink.
While I could easily use beet powder, beet juice, or even red food dye to turn my tempeh pink… I just don't feel like it's necessary! But if you want that pink color, go ahead and add some dye (natural or otherwise) to get the color.
How do we make corned tempeh?
We want a tangy, lightly pickled tasting, and well-flavored tempeh. So, we make a marinade!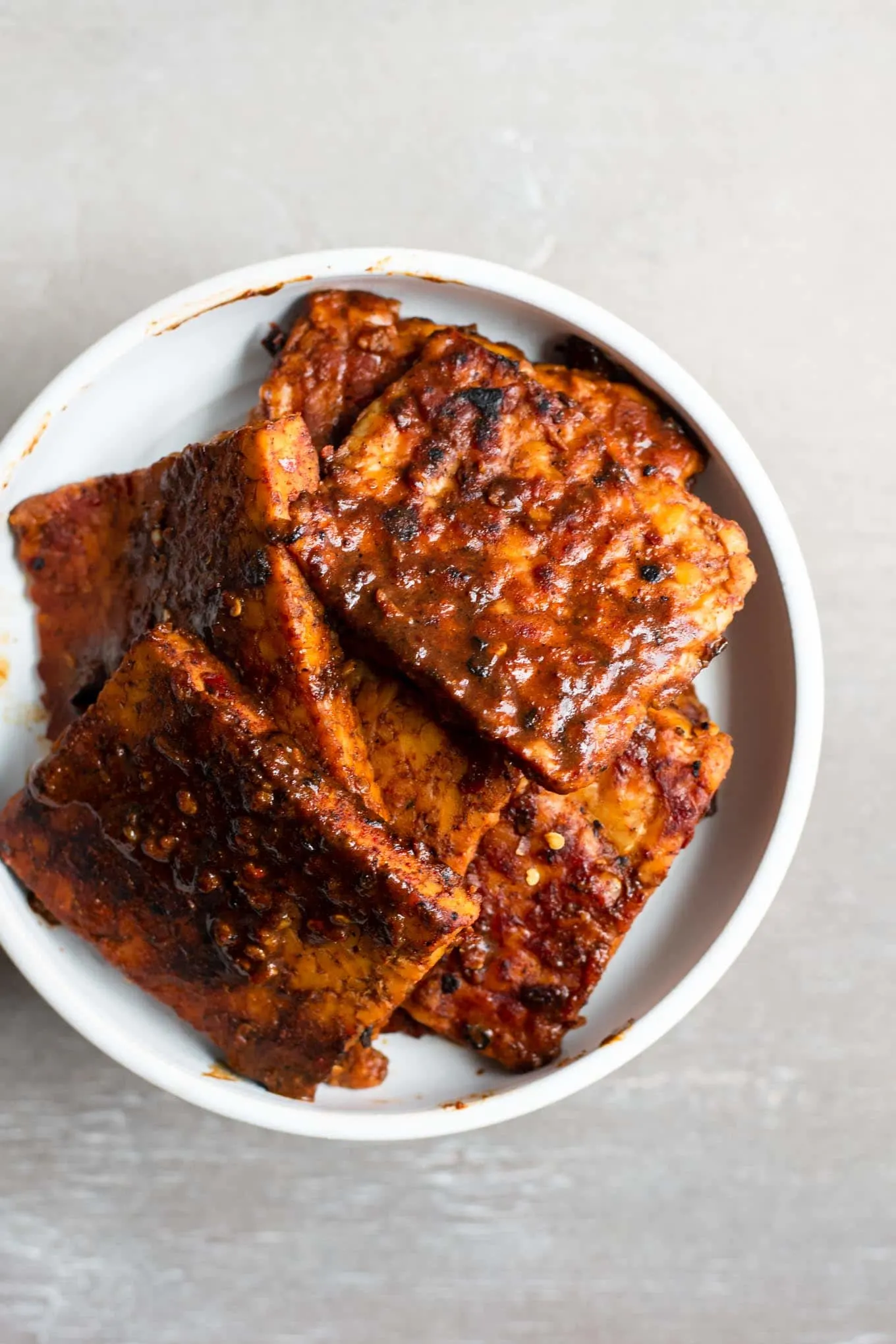 A bit of vinegar adds the necessary sourness to the tempeh. Vegetable broth, soy sauce, and vegan worcestershire sauce add savory umami.
Then we go big on the seasoning. It's common to add pickling spices when making corned beef, and guess what–spices are where a lot of the flavor comes from!
I use mustard seed, smoked paprika, coriander, and allspice for an easy spice blend that really delivers a punch of flavor. Salt, crushed red pepper flakes, and garlic round out the seasoning.
Cutting the tempeh:
Reuben sandwiches are usually made with thinly sliced meat, but you will not be able to cut tempeh as thinly. Instead I lean into the wonderful texture of cooked tempeh.
Most tempeh comes in a long rectangular shape. I cut this into thirds widthwise to get 3 approximate squares.
Each square is sliced into 3 slices (if you can manage 4 go for it but that gets quite tricky). This makes a total of 9 slices of tempeh, which you can use to make at least 3 super filling sandwiches.
Marinating and cooking the tempeh:
When the tempeh is sliced it's ready to be marinated. You want to let it soak in the marinade for 30 minutes if you can manage it (or up to a day in the fridge). Stir, flip, or spoon marinade over the tempeh occasionally to make sure it's evenly marinated.
The marinated tempeh then gets pan fried until golden on each side, and then you pour over the marinade. This does a couple of things:
The tempeh gets lightly steamed which removes some of the bitterness inherent in tempeh.
The marinade soaks up into the seared tempeh.
Whatever doesn't soak in, glazes the outside. This makes it look prettier and taste better!
And that's it! I promise it's so easy to make corned tempeh for your vegan reuben sandwich needs!
Assembling the vegan reuben sandwiches:
You want to choose rye bread, and if you can find it marbled rye bread.
Butter (using vegan butter of course!) the outside of the slices of bread and place them buttered side down on a hot skillet.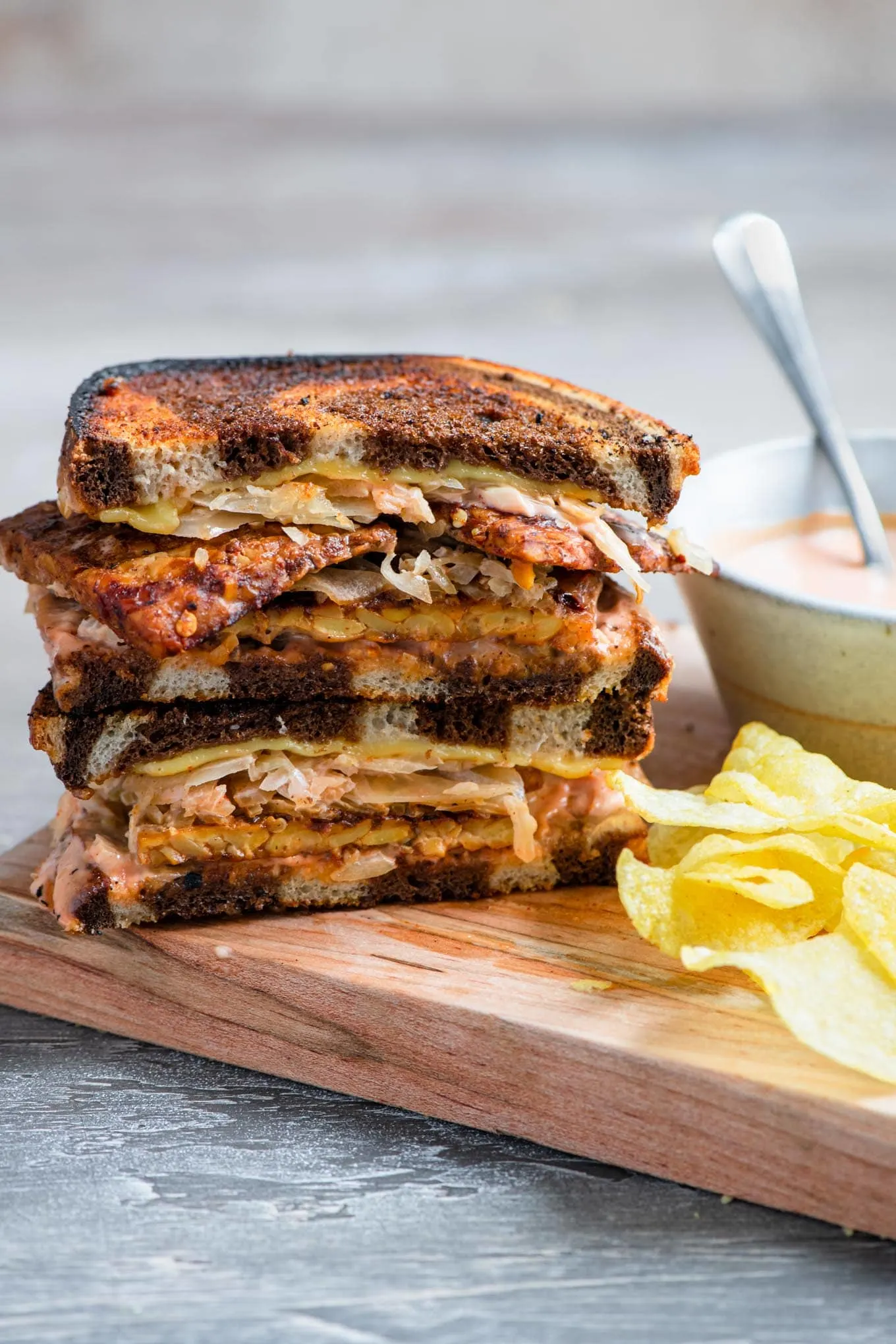 While the bread is toasting add vegan cheese slices to one side. Vegan swiss cheese isn't yet ubiquitous (someday hopefully!) so choose a mild vegan cheese or go for a slice of cheddar.
Spread some thousand island dressing on the other slice of bread. You can make your own vegan thousand island dressing or use a store-bought option. Follow Your Heart makes a yummy one!
As the bread toasts and the cheese starts to get melty, top the cheese with your desired amount of corned tempeh, and pile sauerkraut overtop the tempeh.
Once the bread has toasted enough, go ahead and flip the second slice of bread over to top the tempeh side.
These sandwiches are best enjoyed right away, so only make what you will eat. Save extra corned tempeh for future sandwiches. And to keep your future sandwiches from having cold centers, I recommend you warm up the tempeh before adding it.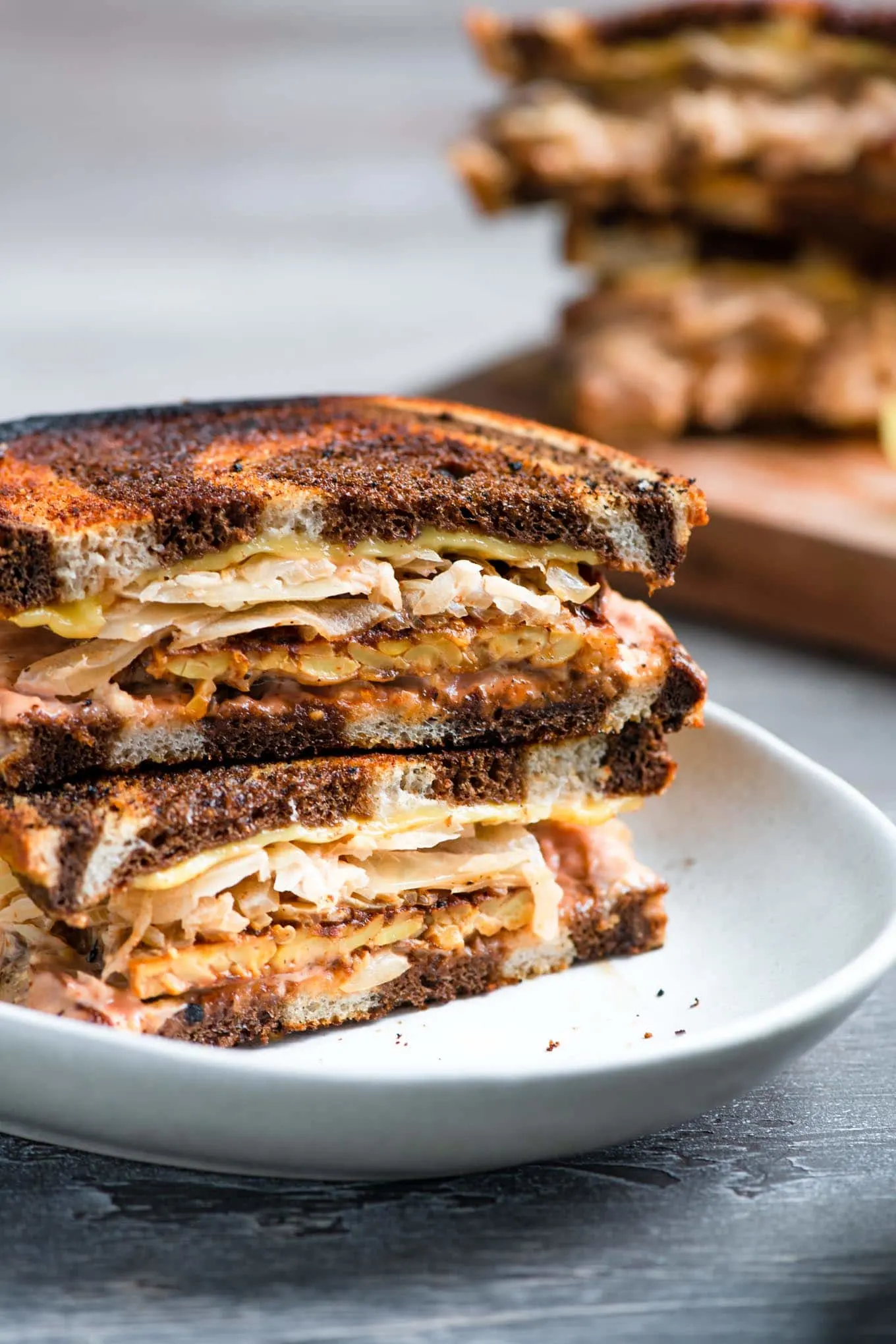 If you make this vegan reuben sandwich recipe, leave a comment below and rate the recipe on the recipe card. And please share your photos with me on Instagram, tag @thecuriouschickpea and #thecuriouschickpea. I love seeing your recreations!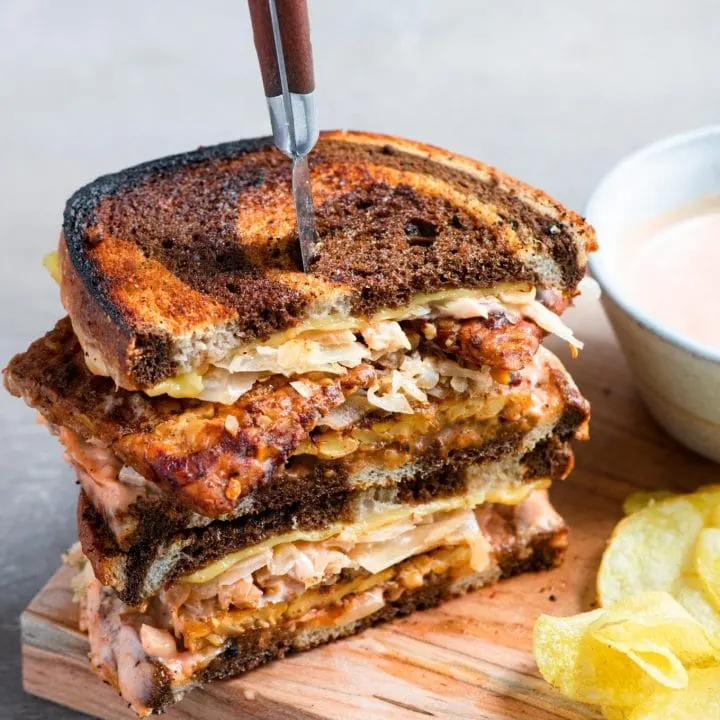 Vegan Reuben Sandwiches
Marinating Time:
30 minutes
This vegan reuben sandwich is made with homemade corned tempeh. It's piled with sauerkraut and thousand island dressing for a mouth-watering sandwich.
Ingredients
Corned Tempeh
8oz tempeh
1/2 cup vegetable broth
1 tbsp soy sauce
1 tbsp red wine vinegar (or apple cider vinegar)
1 tsp vegan Worcestershire sauce
1 clove garlic, minced
1 tsp dry ground mustard seed
1 tsp smoked paprika
1/2 tbsp ground coriander
1/4 tsp ground allspice
1/2 tsp salt
1/2 tsp crushed red pepper
1 tbsp oil
Everything Else
Sliced rye bread
Sauerkraut
Thousand island dressing
Vegan Cheese Slices (optional)
Vegan butter
Instructions
Make the Corned Tempeh
Cut the tempeh into thirds lengthwise. Then cut each piece into three thin slices. Place in a shallow dish or a ziplock bag.
In a large measuring cup mix together the rest of the corned tempeh ingredients except for the oil. Pour the marinade over the tempeh and let marinate for 30 minutes. Stir occasionally (or toss if in ziplock bag) to evenly marinate the tempeh. You can do this step in advance and refrigerate the tempeh while marinating for up to 1 day.
Heat a large skillet over medium and add a little oil to coat the pan. Remove the tempeh from the marinade, letting excess marinade drip off the tempeh before transferring it to the hot pan. You may have to cook the tempeh in batches so the tempeh can cook in a single layer.
Cook the tempeh for 2-4 minutes on each side or until golden. If cooking in two batches, remove the first batch from the skillet and fry the second batch. When all of the tempeh is browned add the first batches back in and pour the remaining marinade over the tempeh. Let the marinade come to a boil and soak into the tempeh, glazing the outside. Flip the tempeh a few times to evenly coat everything.
Prepare the Vegan Reuben Sandwiches
Clean the skillet out from the tempeh then heat back over medium-low heat.
Butter the outside of the slices of bread and place buttered side down on the hot skillet.
Place sliced vegan cheese on one slice of bread (if using). Then spread some thousand island dressing on the second slice. Pile warm corned tempeh over the cheese as it melts (use 1-3 slices of tempeh per sandwich depending on size of bread and your appetite). Top the tempeh with sauerkraut, and when the bread is toasted top it with the thousand island dressed slice. Serve immediately!
Nutrition Information:
Yield:

4
Serving Size:

1
Amount Per Serving:
Calories:

488
Total Fat:

29g
Carbohydrates:

40g
Fiber:

5g
Sugar:

14g
Protein:

20g
Nutrition is calculated automatically so should be used as an estimate.