Madras Curry Marinated Eggplant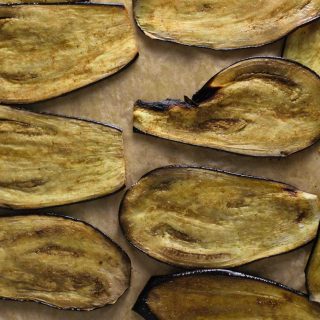 2 small (1¾ lbs) eggplants, thinly sliced (~1/8")
2 tbsp canola or olive oil
3 tbsp red wine vinegar
1 tbsp madras curry powder (or substitute another curry powder)
1½ tbsp canola oil
1½ tbsp toasted sesame oil
1 tbsp soy sauce
1 tsp liquid smoke
Turn oven on to broil with a rack situated ~6" from the top burner. Prepare 2 baking sheets by lining with parchment.
In a small bowl, whisk together the ingredients for the rub: oil, red wine vinegar, and curry powder. In a second bowl whisk together the marinade ingredients: the canola oil, toasted sesame oil, soy sauce, and liquid smoke.
Arrange the sliced eggplant in a single layer on the baking sheets. You will have leftover eggplant, just wait on those and work in batches. Brush each side of the eggplant with the wet rub.
Place baking tray under broiler and broil for 4 minutes, then remove from oven, flip eggplant and return to broil another 4 minutes, or until tender and easily pierced with a fork. Some crispy bits are okay. When out of the oven brush each side with a thin layer of the marinade. Set aside to cool. Repeat with the remaining eggplant.
Let the eggplant cool at least to room temperature, but it gets better after an overnight in the fridge.
Eat the eggplant with basmati rice alongside Indian dishes, use in sandwiches or on pizza. Or just snack on it. Whatever you'd like! It's good!
Recipe by
The Curious Chickpea
at https://www.thecuriouschickpea.com/madras-curry-marinated-eggplant/